Your Support
Kannatusta Etsimässä
Documentary film Your Support takes viewers inside farmhouses and out to the yards of Lapland. Risto Huru's debut professional film shows how the young members of the Finnish Centre Party search for financial support during the summer. Looking for support is hard work and lacks no hardships. The reception is not always welcoming.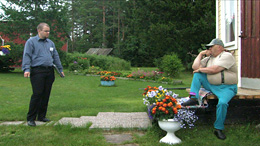 Documentary film shows warm hospitality of the local people and makes no attempt to hide political disagreements either. It is essential to possess good social skills and sensitivity to sense the atmosphere when fishing support payments from the farmers. Summer opens up the collectors' eyes and helps them make their own decisions about the future.
Your Support offers a rare chance to visit homes, which still open their door to a stranger. In Lapland people matter and there is always time for a chat.
Director: Risto Huru